Legal CPD Library
Find The Right Course For You With Our Advanced Course Filter
Advanced Course Filter
Easily filter all our CPD courses to find what's right for you
CPD Collections & Bundles
Access our legal CPD Collections & Bundles
Advanced Course Filter
To find a course that is suitable for you select the "Find A Course" button at the top of your screen. This will direct you to our Advanced Course Filter Tool. 
The Advanced Course Filter is an intelligent tool that will organise all our legal CPD courses from A-Z to ensure that you can easily find your area of law. Once you have selected all of the Area of Law categories that you require, our smart Advanced Course Filter tool will segment all courses that are in your selected area of law for you. Helping you find the courses suitable for your training needs.
To Learn More Watch Our Tutorial Video.
Advanced Course Filter Tool that helps you find the right legal CPD

Over 800+ Courses in 42+ Area of Law

Easily find courses in your area of law
Segments out all the courses you don't need

Filter by Area of Law, Legal Role, or Course Level

Easy and stress free tool

Ensures you can quickly find the right courses for your training needs
CPD Collections & Bundles
Gain access to our Legal CPD Collections & Bundles that offers specialised courses for a variety of legal positions and roles. Whether you're an experienced legal practitioner or only just beginning your legal training, we have a CPD Collection or CPD Bundle tailored for you.
Choose from 12 specialised CPD Collections or CPD Bundles available with your Datalaw Membership.
Examples of our CPD Collections & CPD Bundles: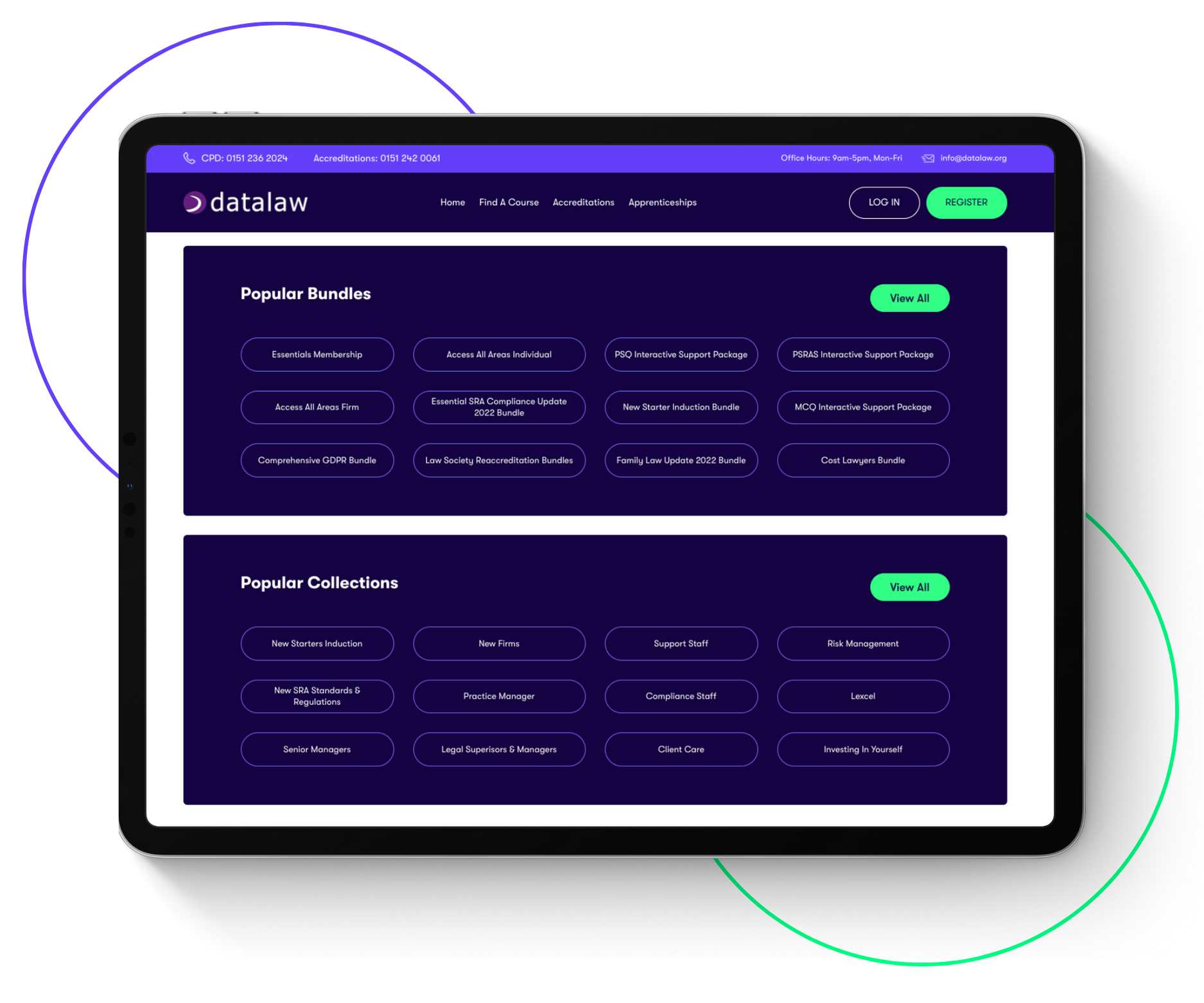 Fulfil Your Legal CPD Training With Datalaw's Extensive Legal CPD Library Including 800+ Courses in 42+ Areas of Law.
View our memberships to start your legal CPD training today.
SRA Documentation/Evidence
Any time spent on our legal CPD courses is tracked and evidenced on Datalaw's CPD reporting dashboard (CPD Tracker). This evidence is stored and saved in our database for 5 years in case it is required as evidence for the SRA or regulatory bodies.
Legal CPD Certificates
Each of the courses taken with Datalaw includes legal CPD certificates that can be printed for evidence and is stored on the Datalaw website for 5 years. See an example of the certification here:
12 Months Access
Datalaw memberships include 12 months Online Access From Any Internet-Connected Device
Upgrade Your Membership Today & Gain 12 Month Access To Our Legal CPD Courses
View our membership offers to gain access to our legal CPD library with 800+ courses in over 42 areas of law